Culligan Aquasential® Tankless RO Drinking Water Filtration System
Culligan Aquasential® Tankless RO Drinking Water Filtration System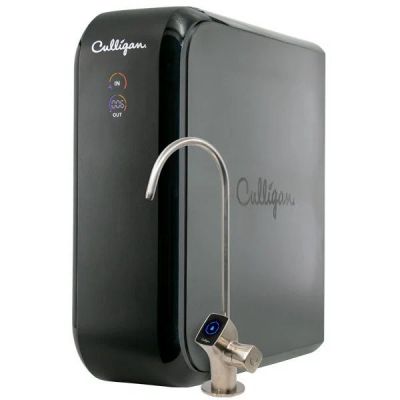 The high-quality water you want with the space-saving design your home needs.
The Culligan® Aquasential™ Tankless Reverse Osmosis (RO) System provides better water when and where you need it, without taking up extra space. This efficient system instantly filters water to deliver a continuous supply when you need it most.
Provides real-time feedback on the quality of your water and the health of your tankless RO system
Reduces total dissolved solids and particulates in your water by 95%
Provides over 600 gallons per day of cleaner, safer drinking water.
The Culligan Aquasential Tankless RO System Is Designed To Ensure:
Advanced Performance - With smart sensors built into the system, the Aquasential™ Tankless RO System can immediately notify you if any issues are detected.
Efficiency - Compared to traditional reverse osmosis systems, the Aquasential™ Tankless RO System produces 30x more water each day, allowing for an unlimited supply on demand.

Dependability - With auto-cleaning, leak detection with automatic water shut-off and filter monitoring, the system can save you money on operating costs.